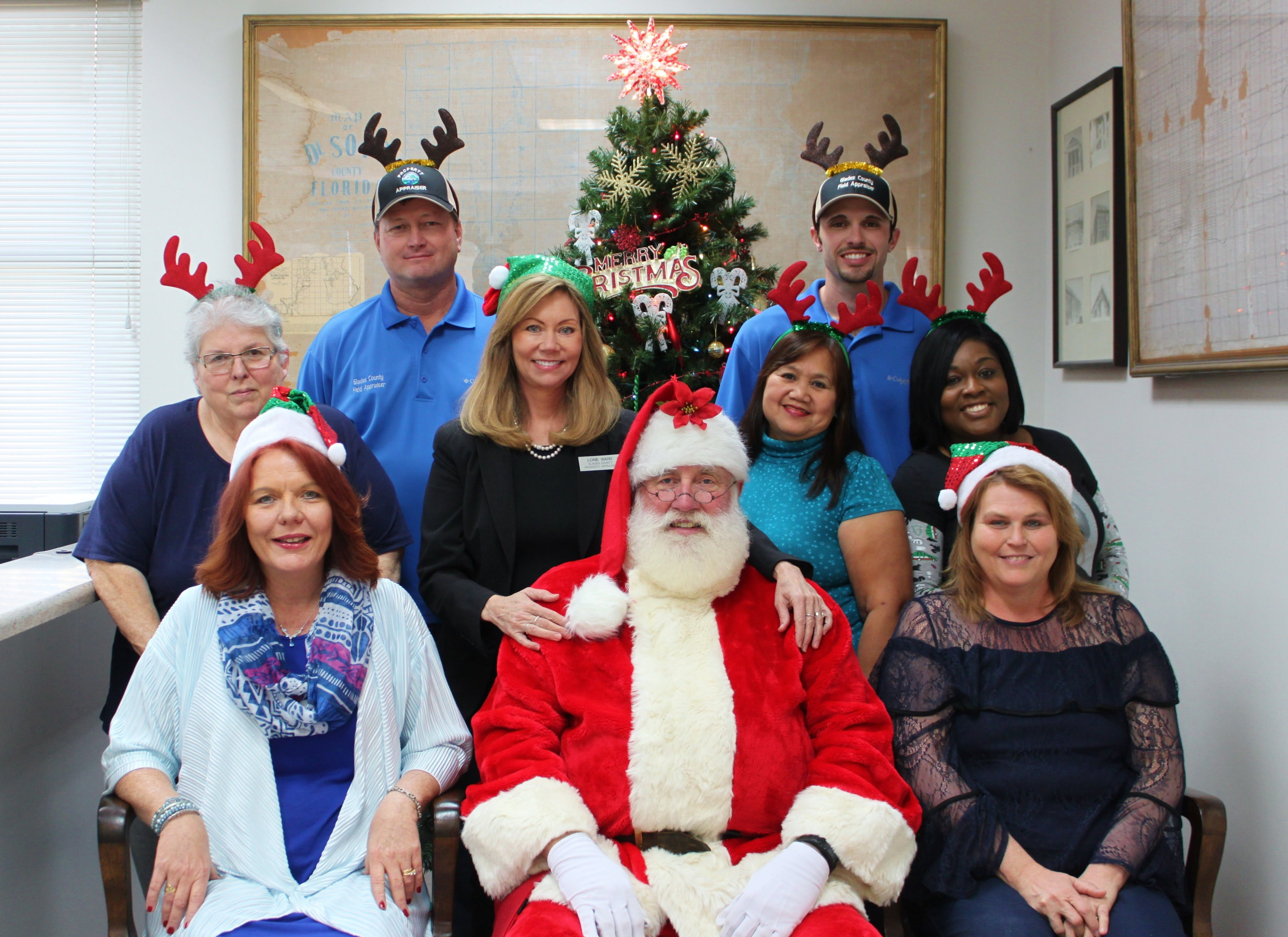 Pictured: (Back Row: Ragen Mathis, Chief Field Appraiser - Bradley Smith, Field Appraiser) (Middle Row : Carmen Whitney, Exemption Specialist - Lorie Ward, Property Appraiser - Irma Palmer, Mapper - Venisha Lewis, Tangible Personal Property Clerk) (Front Row: Marina Langdale, Chief Deputy Property Appraiser - Trish Coleman, Deed Specialist) A special thank you to Santa, Jack Woods for stopping by our office.
Merry Christmas and Happy New Year from the entire Glades Property Appraiser team! Our team is the gift that keeps on giving. These individuals are knowledgeable, professional, and committed men and women who work with a common goal for all the people of Glades County. We are excited and looking forward to working for you in 2018!
Remember, we are in the process of preparing your automatic property tax exemption renewal cards and will be mailing them to you the first week of January. If you received a property tax exemption in 2017, you will be receiving one. This card is to notify you that your exemption will be automatically renewed. The only reason that you should sign this card and return it, is if you are no longer eligible to receive the property tax exemption. By signing the card you are instructing me to remove the exemption from your property for the 2018 tax year.
Exemptions are not transferrable. Therefore if you are the new owner of the property, you must file an application with my office by
March 1, 2018
.
As always, if you have any questions please feel free to reach out and we'll be happy to help. Thanks again for allowing me to work for you and have a Merry Christmas and Happy New Year from all of us.

Lorie Ward, C.F.A.
Glades County Property Appraiser,