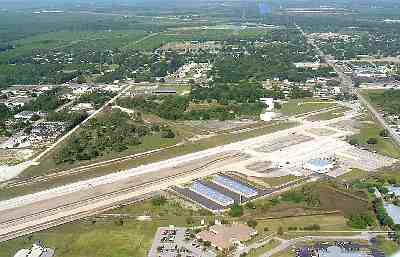 Aerial Photo of LaBelle Municipal Airport - Under construction in 2005 to extend and widen the runway.
The contractor, Better Roads Inc., a Highlands county company, had announced numerous delays since the beginning of the multi-million dollar project.
Now with excavation and grading still underway on the mile long runway and adjoining parking ramp areas, there appeared to be no end in sight, although the construction manager had unofficially guessed a couple of more weeks to complete enough of the runway to allow aircraft to land at LaBelle.
This aerial photo looks west over the city of LaBelle. Photo by Don Browne